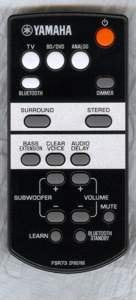 Yamaha FSR73 Remote Control Part # ZP807600
Brand: YAMAHA Parts
Features:
Always use new batteries.
OEM remote controls are not universal and should be replaced by the part number of the remote or the model number of the receiver only.
Any needed information on remote control use is found in the owners manual for the receiver model number.
OEM remotes sourced from US suppliers.
Details: FSR73 OEM YAMAHA HOME THEATER REMOTE CONTROL ZP80760 ZP807600 OEM remote originally supplied with the following models: YAMAHAATS-1050ATS-1050BLATS-1050-RSRT-700YAS-105 FSR73 supports all the features of FSR78 when used as a sub. YAMAHA FSR78 ZV28960 ZV289600 643-YS106*-05BX0 YAMAHAATS-1060ATS-1070YAS-106YAS-107YAS-207 Note: At this time there are no other known acceptable subs to this remote. Please order to replace the original part number for the original models or the sub listed on this page only.
Binding: Electronics
Item Condition: New