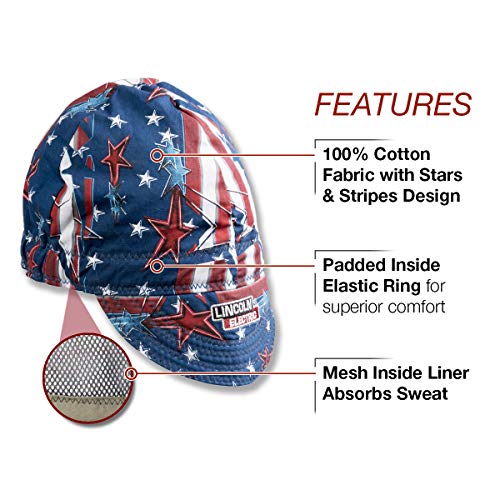 Lincoln Electric Welding Cap| Mesh Inside Liner | All American Print |K3203-ALL
Brand: Lincoln Electric
Features:
HIGH QUALITY COTTON – Made from soft, high thread count cotton and features a stylish stars and stripes fabric pattern.
SWEAT ABSORBANT LINER – The inside of the Welders Cap is lined with a soft athletic mesh which absorbs moisture and help prevent hair pulling.
FLAT STITCHED SEAMS – To prevent discomfort from seams from pressing / rubbing against the forehead, the welders cap is flat stitched to improve comfort and increasing durability.
LIGHTWEIGHT & BREATHABLE - The 100% cotton material is breathable by design. This allows consistent airflow to keep you cool for all day use.
ELASTIC FIT – This headwear features an air cushioned elastic band which stretches to fit the users head dimensions.
USED BY PROFESSIONALS – This headwear is used by professional fabricators on a daily basis.
Details: For fully coordinated look, choose the 100 percent cotton all American Doo Rag to go with the all American helmet Graphic. An air-cushioned insert surrounds the inside of the cap for maximum sweat absorbency and the high crown design aids ventilation. Seams are flat-stitched for superior comfort. Machine washable. Hot hand washing recommended. One Size fits all.