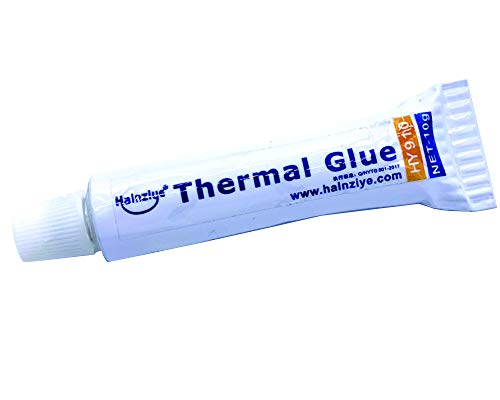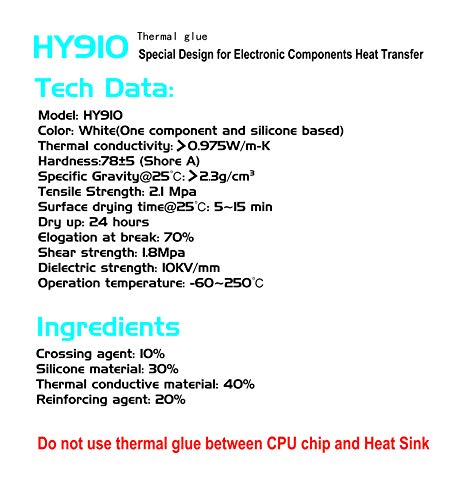 Halnziye 10Gram Thermal Conductive Glue Silicone Plaster Viscous Adhesive Cooling Compound for LED GPU Chipset Heatsink
Brand: Halnziye
Color: clear
Features:
Do Not Use Thermal Glue Between CPU Chip And Heat Sink, use it within 24 hours once opened.
Thermal conductivity:> 1.2W/m-K
Strength of connected buildings: 55 lb.
Features: thermal properties, strong adhesion
Application: apply to all heatsink no fixed clip thermal paste. Ideal for MOSFET Heatsinkï VGA CARD Northbridge Southbridge Heatsink.
Details: Br> * Application: apply to all heatsinkf no fixed clip thermal paste. Idea for MOSFET Heatsink, VGA CARD Northbridge Southbridge Heatsink. * Features: thermal properties, strong adhesion * Melting capacity: 0 (200°C/392°F / 24Hours) * Evaporation: 0.001% (200°C/392°F / 24Hours) * Thermal conductivity:> 1.2W/m-K * Thermal Impedance: <0.06 * Clotting time: 3min (25°C/77°F * Strength of connected buildings: 25Kg/55Lb * Insulation coefficient> 5.1 * Dissipation coefficient <0.005 * Temperature resistance: 200°C/392°F * Net Weight: 10g Do Not Use Thermal Glue Between CPU Chip And Heat Sink
Item Condition: New