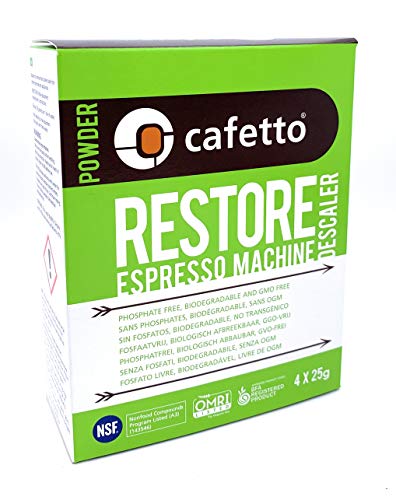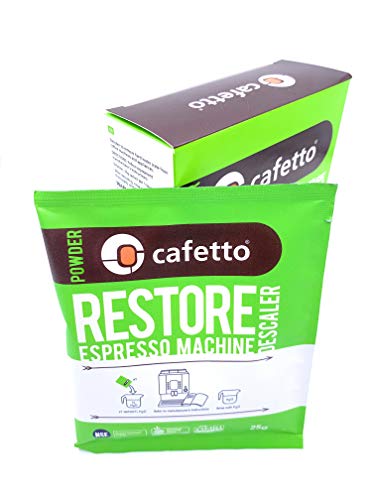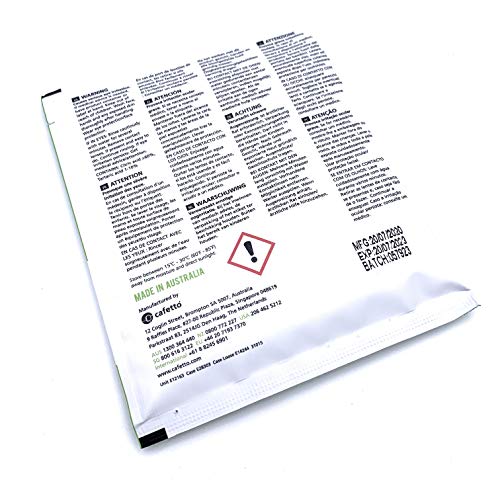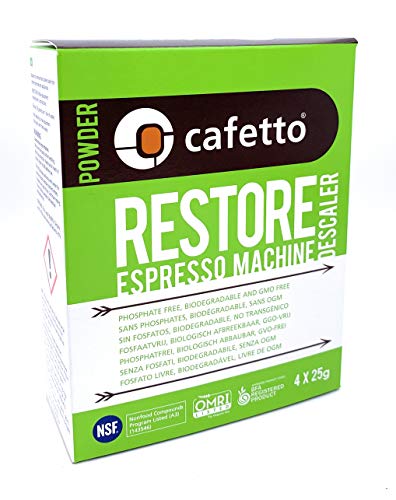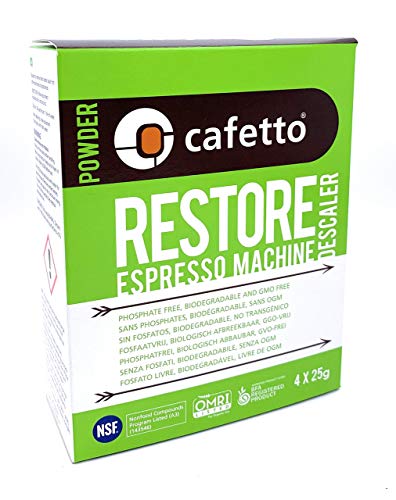 Cafetto Restore Espresso Machine Descaler, Coffee Machine Cleaning Powder for Use In Organic Systems
Brand: Cafetto
Features:
ORGANIC & NSF CERTIFIED - Cafetto Restore Descaler is Safe, Non-Toxic, Phosphate And GMO Free! Restore Contains A Synergistic blend Of OMRI And BFA Certified Organic Food-Acids That Give Outstanding Scale And Lime Removal!
4 SINGLE USE PACKETS - Designed For The Descaling, Deliming, And Decalcifying Of All Of Your Espresso Machines, Single Use K Cup Machines, And Coffee Brewers!
IMPROVED TASTE- Regular Descaling Improves The Taste Of Your Espresso And Coffee. Maintaing Your Machine Can Help Prevent Poor Performance And Machine Failure.
CERTIFIED SAFE - The Ingredients And Formulation Of The Products That Are NSF Certified Are Safe, Leave No Harmful Residues And Do Not Cause Corrosion Within The Coffee Machine. Safe To Use On Aluminium, Brass And Stainless Steel. Restore Is Rapidly Biodegradable And Safe For The Environment!
WORRY FREE BUYING - If You Are Not Satisfied With Our Product Please Let Us Know. We Are 100% Committed To Complete Customer Satisfaction!
Details: A safe and effective powder descaler for removing hard water scale from espresso machine boilers, coffee machines, k-cup machines, and milk delivery lines. Can also be used to descale bottles and kettles. Contains a synergistic blend of organic acids that give outstanding scale removal. Restore is registered by Biological Farmers of Australia (BFA) as an allowed input in organic systems and is certified by the Organic Materials Review Institute (OMRI). Restore is free from phosphate and Genetically Modified Organisms. The ingredients and formulation of the products that are NSF certified are safe, leave no harmful residues and do not cause corrosion within the coffee machine. Safe to use on aluminium, brass and stainless steel. All ingredients are all rapidly biodegradable meeting international standards. Contains 4 25g sachets. Each 25g sachet makes up one litre of descaling solution. Descaling-Cleaning Instructions. Always follow your manufactures recommended procedures! 1. Dilution: 25g sachet per 1 litre of water. 2. Refer to machine manufacturer's instructions on how to clean equipment. 3. After descaling, rinse equipment thoroughly with fresh water.