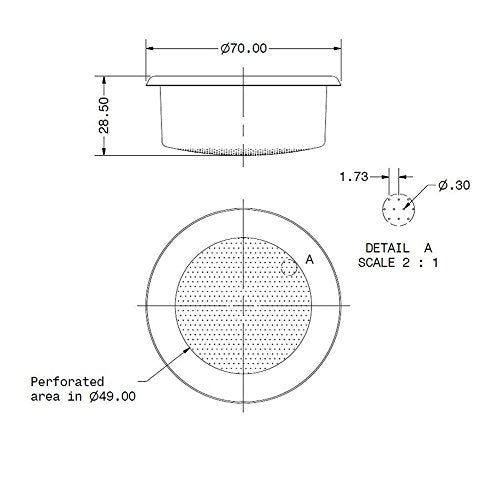 IMS Competition E-61 Precision Filter Ridgeless Basket 18/22 gr - B70 2TC H28.5 E
Brand: IMS
Color: Silver
Features:
I.M.S. produces a range of competition filters designed to bring out the best in your coffee.
Description: Average capacity 18/22 gram | B70 2TC H28.5 E
Shape: Border: Ø 70 mm (B70) | Height: 28.5 mm (H28.5) | Corpo: Ø 60 mm for Ø 58 mm tamper | Ridge: Ridgeless | Shape: Cylindrical with convex bottom |The shape was created by I.M.S. to obtain the proper ratio between the base and height of the coffee puck in relation to capacity. The filter is cylindrical with a specific corner rounding at the base. This shape has been designed to exploit the whole coffee puck, which also facilitates drying and expulsion.
Perforation: I.M.S. perforation is exclusive and patented | Perforated Area: Ø 49 mm | area optimized in relation to the shape of the filter | Number of Holes: 715 Micro spacing (E) | The number and distribution of the perforations are designed to balance the delivery in relation to the height and shape of the filter and perforated area. | Hole Diameter: 0.30 mm | Shape of the Hole: Circular with Conical cross section. | Competition Perforation: Relaminated and Recalibrated
Compatibility Fits some, but not all models of: E-61, Faema, La Marzocco, Synesso, Slayer, Nuova Simonelli Victoria Arduino, Rancilio. Astoria. Conti, Elektra Commercial, La Pavoni Commercial, Vibiemme, Wega, Ascaso, Bezzera, Brasilia, ECM , Expobar, Fiorenzato, Grimac, Iberital, Rocket
Details: I.M.S. produces a range of competition filters designed to bring out the best in your coffee. The SHAPE and PERFORATION have been designed and calibrated so as to ensure the ideal extraction. The recalibration of the perforation type means that there is uniformity in the diameter of the holes and the surface mirror finish facilitates cleaning of the filter. NOTE: Not all spouted portafilters are deep enough to allow for the use of this competition basket insert. If you are unsure of the portafilter depth compatibility we recommend using a bottomless portafilter or contacting the vendor from whom you purchased your machine.
UPC: 793842625882
EAN: 0793842625882
Binding: Kitchen
Item Condition: New